Many patients fly to San Diego to seek Dr. Roy David's expertise in facelift surgery due to his vast experience of over 1000 facelifts. He has also pioneered the La Jolla Lift procedure which was featured on national television. The Deep Plane Facelift is an advancement in facial rejuvenation and is Dr. David's preferred technique.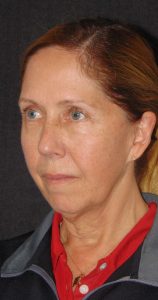 The patient below was mainly concerned about her jawline and neck. As you can see, there is significant loos skin and wrinkles in the neck. Her jawline has lost its definition and seems to blend into her neck. Jowls are present, and the cheeks have drooped, deepening the smile lines. Dr. David also noticed that her brows were drooping, making her eyes appear small and heavier.
A deep plane facelift corrects most of these concerns by entering the "deep plane" or layer beneath the muscle, in the face. By lifting in this layer, a more powerful and more direct lift is created. Equally important, the cheeks, jawline, and neck can all be lifted together as one unit. This is important because it creates a more natural result.
A deep plane facelift requires a higher level of skill and expertise than a traditional "skin only" or even a "SMAS" facelift. The surgeon must be an expert at anatomy of the face, and know exactly where to enter the deep plane to achieve the best result.
It is important to choose a fellowship trained, double board certified Facial Plastic Surgeon, and equally important to examine that surgeon's before and after results. Pictures tell 1000 words- especially in plastic surgery. Signs of a great result include elevation of the cheeks, jowls, and neck tissue with no "pulled" appearance.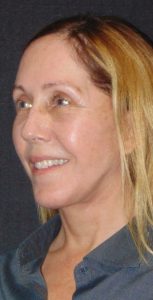 For this particular patient, Dr. David recommended a deep plane "La Jolla Lift" facelift, an endoscopic browlift, fat transfer to the face, a chin implant, and a laser peel. The patient also complained of fullness in her lower cheek area and requested buccal fat removal.
While this may seem like a lot of procedures, you'll notice the result is completely natural. This is because her face is now in perfect balance. Her brows match her rejuvenated jawline and neck, and her healthy skin surface matches her new younger firmness.
Facelift surgery can be performed with general anesthesia or with gentle twilight sedation. This patient chose general anesthesia due to the multiple procedures required. The classic La Jolla Lift procedure involves twilight sedation, but is still a deep plane facelift with often dramatic results.
The recovery for facelift surgery is generally one to two weeks. Swelling and bruising are common but subside rapidly in the first week of healing.
If you think you might be a candidate, please contact our office at info@roydavidmd.com or call 858 658-0595 to schedule a consultation with Dr. David for facelift surgery.