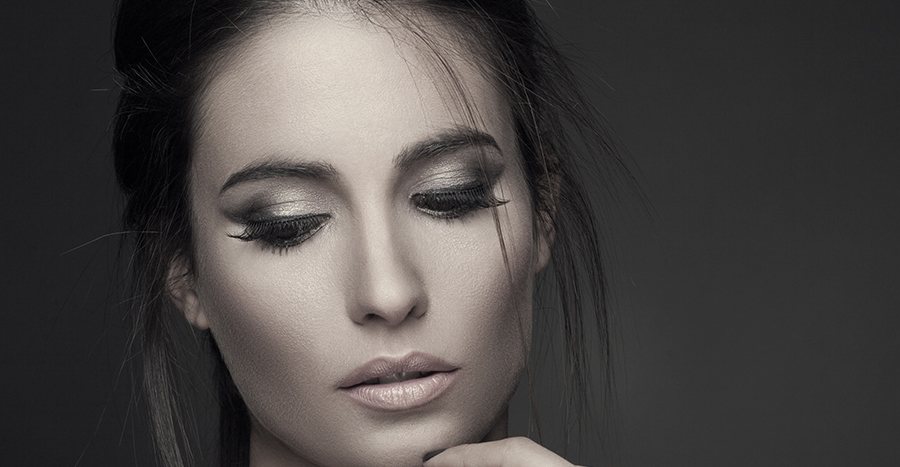 *Before and after photos and testimonials on this website are from actual patients who have given permission to have their photos/testimonials published. These photos and testimonials are for illustrative purposes only and no prediction of outcome is implied. Individual results may vary.
San Diego Facial Plastic Surgeon Dr. Roy David is a facelift specialist and has performed over 1000 facelifts.
As we continue to live longer, healthier lives, more and more people are eager to "look as young as they feel." As a result, facelift surgery has become increasingly popular among women and men. The medical term for this procedure is rhytidectomy, meaning "removal of wrinkles." What a rhytidectomy does is remove or reposition excess sagging skin and soft tissue in the face and neck. The effect is as if you turned back the hands of a clock, often making you look as you did ten or fifteen years in the past. Finding the best facelift surgeon for your procedure is an important first step; you owe it to yourself to review multiple before and after photos and choose a skilled and experienced facelift surgeon. The major areas addressed by this operation are the eyebrows, the cheek and jowl regions, and the neck. Eyelid surgery and skin resurfacing, while sometimes done at the same time as a facelift, are separate procedures.
Surgical Philosophy
We believe strongly in achieving a natural-appearing, rejuvenated look for our facelift patients, as opposed to an excessively tightened, "windblown" appearance. The goal is to make you look as you did at a younger age, not to make you look like a different person. We listen to your desires and create a surgical plan to give you the results that you have been dreaming of. "Outstanding natural results may be achieved by addressing the "3 Dimensions" of facial aging: volume, texture, and tightness. " – Roy David, MD
Before and After Photos
*Before and after photos and testimonials on this website are from actual patients who have given permission to have their photos/testimonials published. These photos and testimonials are for illustrative purposes only and no prediction of outcome is implied. Individual results may vary.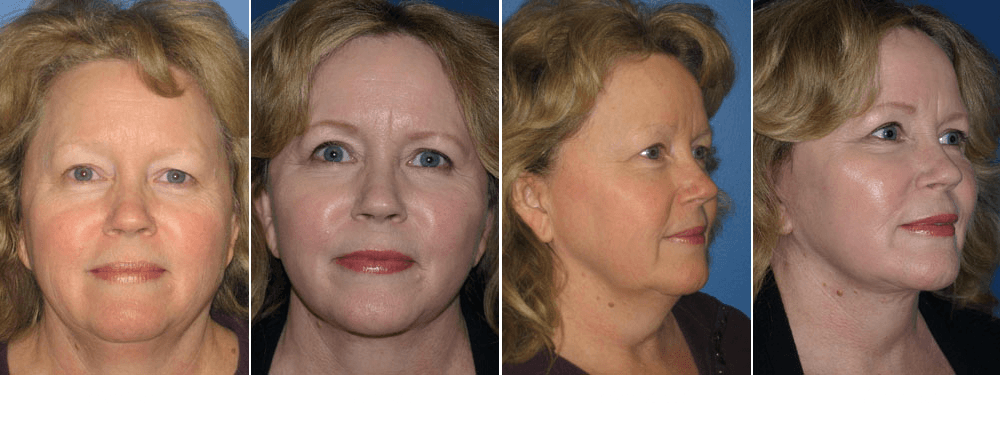 The Consultation
During your facial rejuvenation consultation for in our La Jolla office, photographs will be taken for imaging purposes as well as for photo documentation. Your photos will not be shared with any other persons without your express permission. After you have had an opportunity to express your concerns and areas of desired improvement, your face and neck will be carefully examined, including skin and muscle tone, bone structure, and fat distribution. The position of your brows and cheek pads will be assessed to determine if you are a candidate for brow lift or possibly mid face lift. We may suggest additional or alternate procedures to complement your desired changes. In an area with great weather such as San Diego, we all enjoy spending time outdoors, and years of sun exposure may leave brown spots and fine lines on the skin surface. A fractional laser peel can remove these signs at the same time that a rhytidectomy tightens the jowls and neck. We now know the importance of volume restoration in facelift surgery; fat transfer or facial implants such as cheek and chin implants can replace lost fat and bone mass, creating an even more natural and refreshed look. Some other common adjunctive procedures to facelift surgery are eyelid lift, and lip augmentation, any of which may be performed at the same time. During your consultation you will have several opportunities to ask questions, and following the consultation our patient care coordinator will guide you through the surgery preparation and recovery processes. Call our office today at 858.658.0595 to schedule your consultation! There is no reason to wait to look as young as you feel…
The Surgery
Facelift surgery is commonly performed on an outpatient basis at our own fully staffed, AAAHC certified surgery facility. IV sedation or general anesthesia are common for longer procedures.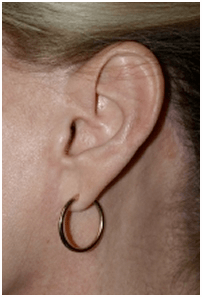 Close up of incision: Patient can wear hair in any style.
*A
full facelift
involves tightening of the neck and jowls, as well as a lifting and repositioning of the cheek and temple region. This generally includes liposuction of the neck and jowl region, as well as tightening of the platysma muscle (responsible for loose bands in the neck). Dr. David performs a deep plane lift, meaning the deep layer of tissue beneath the skin is lifted over the cheeks, jowls, and neck. This provides an often dramatic but very natural rejuvenation of the face. The SMAS layer is lifted and repositioned in a vertical direction (vertical facelift) . Volume loss may be addressed using fat or facial implants. Sagging temples and lateral brows may be improved by extending the incision into the hair-bearing temple. Some patients benefit from adding a
forehead lift or brow lift
to more fully reposition the brows and aging forehead. A
"mid face lift"
addresses the cheek pad and nasolabial folds or smile lines. Candidates for a midface lift include patients with heaviness below the cheek prominence and above the jowls. These patients often present with dark circles or hollowness beneath the eyes, which are due to a descent of the malar (cheek) fat pad. The mid face is lifted through a small incision in the hair-bearing temple or under the eye. The mid face lift can be performed in younger patients in their 30's without signs of jowling or excess neck skin, or can be combined with a standard facelift when indicated. The
direct neck lift
is an alternative among patients with prominent neck aging or "turkey gobbler neck," who may not be concerned about the jowls or cheek regions. The excess neck skin and fat can be removed with a well hidden incision under the chin. This procedure generally requires only local anesthetic or mild sedation. Fat grafting or fat transfer at the time of facelift surgery has become a popular choice for our patients. While a facelift will tighten skin and remove or reposition drooping tissues, many patients also have volume loss in areas such as the temples, the area below the eyes, the cheek pads, and the lips. By replacing lost fat in these regions a very youthful and natural look is achieved. Many patients benefit from eyelid lift or blepharoplasty which can be done at the same time as the facelift. An eyelid lift procedure addresses signs of aging around the upper and lower eyelids including bags, loose skin, and hollow areas. Another common adjunct is laser resurfacing which can address the wrinkles around the lower eyes and mouth (this skin is not tightened by the facelift). The incisions for a facelift are nearly all hidden behind the hairline, and those that are not are placed within natural skin folds or behind the ear. When healing is complete, these incisions are usually very difficult to see. The deep layer or superficial musculoaponeurotic system (SMAS for short) is tightened and re-suspended, restoring a refreshed, youthful appearance, without stretching the overlying skin.
Facelift Surgery Recovery
*After facelift surgery in San Diego, patients may spend the night in the luxurious Sheraton Hotel, which is immediately adjacent to our office. A qualified caregiver or nurse is available to assist with any needs, and Dr. David personally visits his patients that evening. The following morning dressings are removed, and the patient is generally allowed to return home. Mini Facelift patients may go directly home after surgery. Swelling and even bruising are normal after surgery, but begin to resolve within a few days following facelift surgery. Pain is generally minimal and easily controlled. By one week, most patients feel comfortable enough to resume a majority of activities (with some restrictions). Most patients are able to return to their usual routine within two weeks. For a facelift in San Diego or La Jolla California contact our office today at 858.658.0595.
Risks of Facelift Surgery
*Our concern for your satisfaction is only secondary to our concern for you safety. You will undergo a thorough preoperative history and physical at our office, with appropriate lab work and consultation with your primary care provider if necessary. For healthy patients, risks are minimal but may include the following: 1. Bleeding: heavy bleeding is extremely rare; mild bleeding may be treated with temporary drains. Patients can reduce bleeding complications by avoiding aspirin or other blood thinners, and following postoperative instructions. 2. Infection: infection in the face and neck is also extremely rare. Prophylactic antibiotics reduce this risk further. Make sure to inform your doctor if you have any history of diabetes or smoking. 3. Scarring: anywhere an incision is made, there will be a scar. However, facelift incisions are made with precision and skillfully hidden along natural folds and creases. Your incisions should be very hard to notice. 4. Nerve damage: temporary numbness or tingling may be experienced around the earlobes, which usually resolves completely within 3-12 months. Temporary muscle weakness is also possible, most often resolving within several weeks. Permanent nerve damage is extremely rare.
Signature Mini Facelift Procedure
*Patients often come to our office and ask: "Is there some kind of procedure you do that I can have without deep anesthesia OR a long recovery but that will really make a difference in how I look and feel? And oh, I want to look younger and refreshed- not "done." The answer to this question is Yes. It is what we at La Jolla Center for Facial Plastic Surgery refer to as our La Jolla Lift ®. Click here to visit our La Jolla Lift® page! Many patients seeking facial rejuvenation are busy with work and family obligations or are simply leading active lifestyles. They don't have the time to devote to a long procedure or a prolonged recovery. For these patients, our La Jolla Lift ® can remove 10 to 15 years in about 90 minutes. The procedure is designed by Dr. David to provide maximum benefit in the jowl and neck regions (comparable to any full facelift!), but also to allow quick recovery and return to activities. The procedure is performed with no general or deep IV anesthesia. This minimizes any potential anesthetic risk, lowers costs, and also quickens the overall recovery process. Most patients can resume work or other activities within 3 to 7 days!
Frequently Asked Questions:
Why should I have a La Jolla Lift ® and not a full facelift by Dr. David? Answer: If your cheek pads are in good position and your main concern is the jowl area and loose tissues under the chin, the mini facelift may offer you a faster recovery and less expense. Ultimately, the best way to determine this is to come in for a complimentary consultation and evaluation. The benefit of seeing an experienced, Board Certified Facial Plastic Surgeon is that our office offers BOTH types of facial rejuvenative procedures and we will recommend what is best for you based on your appearance and desires.
*How is your signature mini facelift procedure different from a typical Mini Facelift? Answer: In most cases a Mini Lift gives mini results. Dr. David's mini facelift procedure provides as good or better results in the jowl and neck regions as any traditional facelift. Dr. David's unparalleled experience allows him to perform the procedure in an average of 90 minutes, whereas similar results may take several hours and be much more expensive elsewhere.
Can I add on other procedures, like my eyelids or laser? Answer: Yes.
How much does it cost to learn more about this exciting procedure and what it can do for me? Answer: Consultations with Dr. David are very affordable, and you may even schedule a complimentary visit for the La Jolla Lift ® or obtain a free brochure by calling (858) 252-1646 !
For a Facelift in San Diego or La Jolla California contact our clinic today at (858) 252-1646.