Radiesse®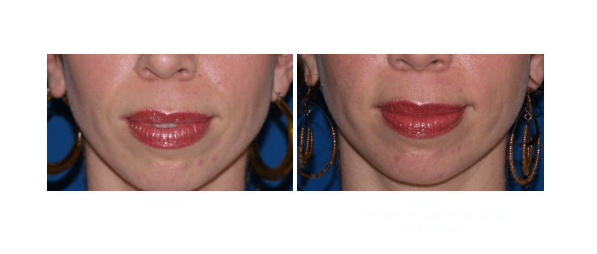 Have you experienced a loss of volume in your face that has negatively affected your appearance? Are you unhappy with the toll the natural aging process has taken on your appearance? Do you wish you could smooth wrinkles, but a surgical procedure does not feel like the best choice for you? RADIESSE is a unique dermal filler that restore lost volume and help reduce frustrating signs of aging. Learn more during a consultation with our team in the San Diego area at Roy David MD Plastic Surgery And Medical Spa in La Jolla, CA!
What Is RADIESSE?
RADIESSE® is an FDA-approved dermal filler that effectively restores lost volume by encouraging collagen production. Unlike other dermal fillers, this injectable treatment is unique because of its composition. While it is most commonly used to treat facial areas, it can also be used for hand rejuvenation and cheek or jawline enhancement.
RADIESSE is made of Calcium Hydroxylapatite, or CaHA, microspheres that are suspended in a gel. When administered, your body absorbs these microspheres. While you may see some increase in volume immediately after treatment, the microspheres stimulate your body's natural collagen production processes. Collagen helps provide structure to your skin for a firmer, tighter appearance.
What Could I Expect from a Procedure?
RADIESSE is an injectable treatment administered in the comfort of our San Diego office. Lidocaine and a topical anaesthetic are used for your additional comfort during treatment. Treatment sessions are typically short, but will vary for each treatment area.
Common concerns addressed with RADIESSE include:
Chin wrinkles
Corners of the mouth
Marionette lines
Pre-jowl folds
Smile lines
There is no set downtime associated with a RADIESSE treatment session, but experiencing some mild bruising or swelling may occur. You could experience some of the volumizing, plumping benefits of this non-surgical, minimally invasive treatment option immediately after treatment. However, the best results continue to develop over time as collagen is produced.
Results will vary for each person and treatment area, but some people enjoy the results of RADIESSE injections for up to a year. A series of treatments may help you achieve and maintain the best results.
Am I a Good Candidate?
Most people considering injectable treatments to enhance their natural beauty could benefit from RADIESSE. However, a consultation with our team in the San Diego area can help determine if this treatment option is the best choice for you and your cosmetic goals. Our team can help you develop the treatment plan for you and your needs.
Schedule Your Consultation!
Is it time to refresh your look? Contact us today at Roy David MD Plastic Surgery And Medical Spa and schedule your consultation to learn more about RADIESSE! Our team proudly serves the San Diego area from our office in La Jolla, California. A smoother, younger appearance can be achieved with the help of our team and this unique dermal filler!