Morpheus8™ is an advanced skin care technology that combines microneedling with radiofrequency (RF) energy. This revolutionary device can tighten loose skin, minimize facial scars and other skin tone and texture imperfections, and reduce the severity of fine lines and wrinkles. While microneedling is already known as a highly effective collagen induction therapy, by adding RF energy, you can expect even better results, often faster.
Morpheus8™ is a minimally invasive RF treatment that is safe and effective for your face and body.
Dr. Roy David is a facial specialist certified by the American Board of Facial Plastic and Reconstructive Surgery. He offers only the best non-surgical skin treatments, like Morpheus8™, for his patients in San Diego, California, and beyond.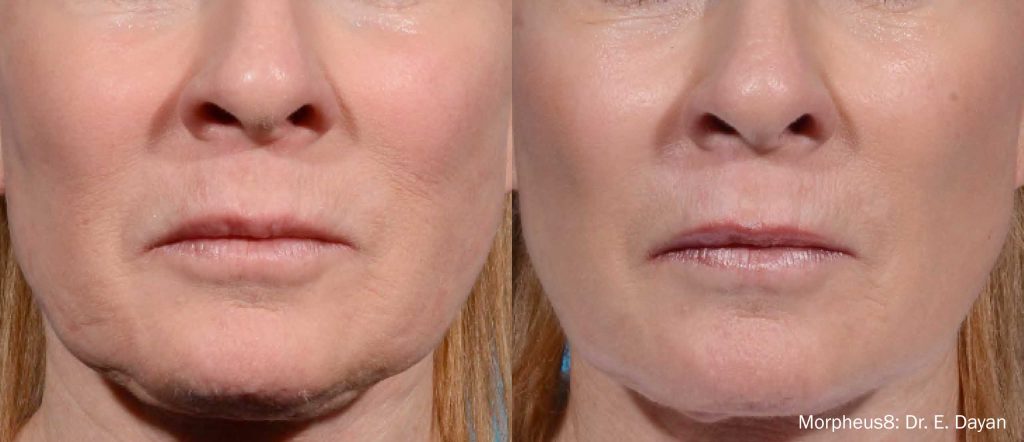 What Are the Benefits of Morpheus8™?
Morpheus8™ can treat and improve several skin concerns in a variety of areas, including:
Fine lines commonly found around the eyes and mouth
Deep lines on the forehead or between the brows
Wrinkles on the nose and cheeks
Loose skin under the chin
Acne scars
Tone and texture concerns
Fat tissue remodeling
Morpheus8™ also commonly helps to tighten and smooth skin in these body parts:
Upper arms
Bra roll area
Tummy
Flanks
Buttocks
Knee area
Thighs
Am I a Candidate for Morpheus8™?
Morpheus8™ is effective and safe for all skin types. If you want to improve several common signs of aging, Morpheus8™ may be the solution for you.
However, if you are pregnant, nursing, or suffer from sores or rashes, you should discuss this at your consultation. Morpheus8™ treatments should not be used during active breakouts, and your provider will want to ensure that receiving treatment will not trigger an episode.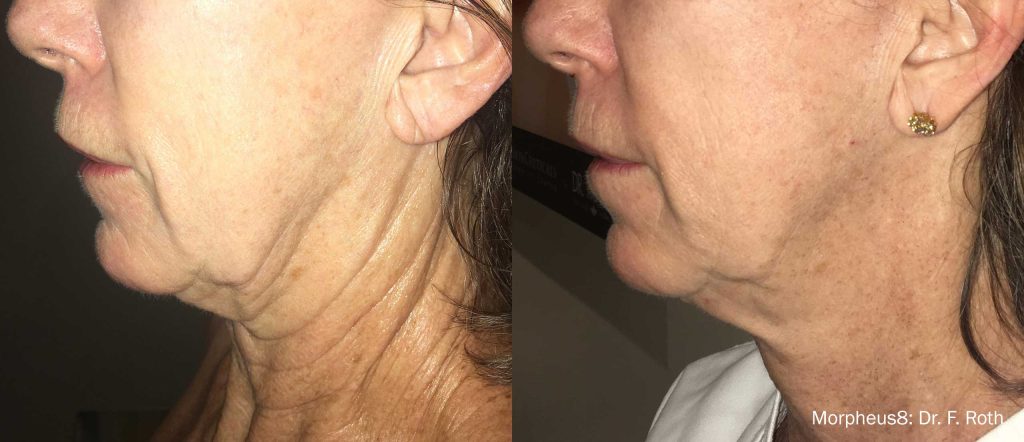 What Is Discussed During My Morpheus8™ Consultation?
During your consultation, your provider will listen carefully to your concerns and goals and answer your questions about the treatment.
They will also assess the areas you would like treated to ensure that Morpheus8™ is the best method to address your skin condition.
How Does Morpheus8™ Differ From Ultherapy®?
Ultherapy® treatment is limited to the face, neck, and decolletage, and produces lifting in the deeper layers. Morpheus8™ tightens the skin and is versatile enough to treat any areas of the face and body, with results lasting between three and five years. Morpheus8™ works well for a wider age range and we find it to have greater effect on superficial lines and scars in the skin, as well as loose skin.
What Areas Can Morpheus8™ Treat?
Morpheus8™ can treat all these areas:
Face
Neck
Chest
Décolletage
Arms
Hands
Abdomen
Back
Buttocks
Thighs
Knees
The versatility and effectiveness of Morpheus8™ offers effective treatment for your face and body that you will enjoy for years.
How Is the Morpheus8™ Procedure Performed, and How does it Work?
Morpheus8™ stimulates rapid collagen growth deep within the skin. This process occurs when radiofrequency energy is distributed through electrodes attached to the microneedles. These tiny needles penetrate about one millimeter into the dermis.
This advanced microneedling treatment triggers an abundance of new collagen to smooth and tighten all skin types.
We offer our clients a choice of oral sedation and topical numbing, as well as the revolutionary PRO-NIX™ to ensure a comfortable treatment experience, although a mild heat sensation is normal.
How Long Is Recovery After a Morpheus8™ Treatment?
Only minimal side effects are associated with the Morpheus8™ procedure. You may experience some redness and swelling following the treatment, which typically subside in a few days.
How Much Does a Morpheus8™ Treatment Cost?
Morpheus8™ treatment costs will depend on how many areas are being treated and the number of sessions needed.
Please feel free to ask as many questions as you like at your consultation, including the cost of your treatment.
When Will I See My Morpheus8™ Results?
Most patients undergo three to four sessions depending upon their skin type, age, and goals. Expect to see more dramatic results in about four weeks with continued improvement over the following weeks.
San Diego Morpheus8™ Treatments With Cosmetic Facial Specialist, Dr. Roy David
Dr. David is a well-respected plastic surgeon specializing in facial procedures. He and his team also offer top-of-the-line non-surgical facial treatments in San Diego and La Jolla, California, such as Morpheus8™, platelet rich plasma (PRP), laser skin treatments, and more!
Call us today at (858) 658-0595 to learn more!
Frequently Asked Questions About Morpheus8™
Q. How long does the Morpheus8™ procedure last?
A. Sessions often last between 30 and 45 minutes, depending on the size and number of treatment areas. However, you will need to arrive an hour before the procedure to have a topical numbing cream applied to the treatment area.
Q. Is Morpheus8™ painful?
A. Local anesthesia is administered to the treatment areas to prevent discomfort during the Morpheus8™ treatment. You may experience some soreness for a few days following the procedure, which you can control with over-the-counter pain medicine.
Q. How many Morpheus8™ treatments will I need?
A. Individuals typically need three sessions with Morpheus8™ to achieve their desired results. The number of sessions you'll require will depend on the extent of your treatment needs.
Q. Are there any Side Effects with Morpheus8™?
A. Common side effects experienced after treatment with Morpheus8™ include some mild redness and swelling. These symptoms should subside within a few days.