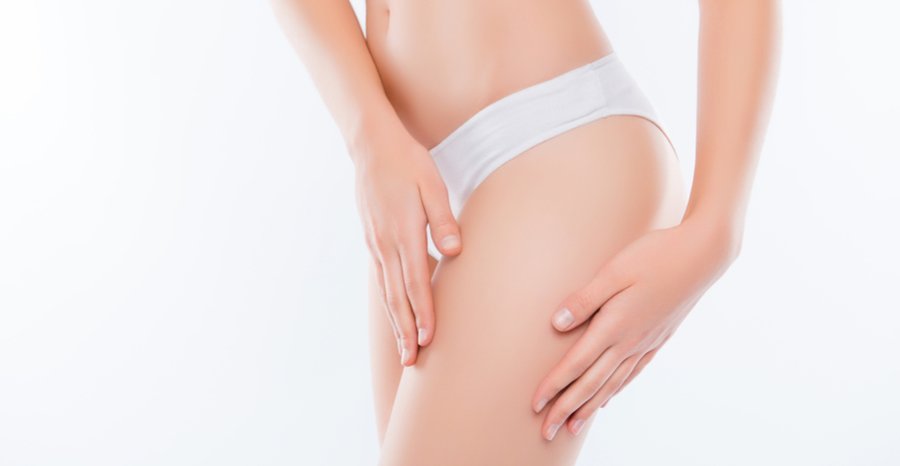 Are you unhappy with the loose skin and stubborn fat around your thighs? Do you sometimes experience uncomfortable chafing in between your legs due to excess fat rubbing together? Have you noticed the skin in your thigh region gradually continuing to become more loose and lax as you get older? Unwanted leg bulge and loose skin in the thigh region is a common concern for many people. It can be caused by the natural causes of aging, heredity, or following weight loss and gain. If you are ready to say goodbye to thigh bulge and hello to smooth contoured legs, a thigh liposuction and lift procedure could be the solution you have been searching for.
What is Thigh Liposuction/ Lift?
This is an innovative combination treatment designed to target and remove problem fat cells, while lifting and tightening loose and lax skin for smooth and contoured thighs. The liposuction works to first break up and remove fat from the treatment area, while the thigh lift is designed to effectively remove the loose skin from the area. The remaining skin is tightened for improved smoothness and shape. With this advanced combination treatment, you can achieve proportionate and  youthful looking thighs.
How Does it Work?
Each treatment is personalized by one of our skilled San Diego Plastic Surgeons to address each patient's specific concerns and aesthetic goals. During the procedure, first liposuction is performed. A specialized device called a cannula is gently inserted into the thigh area where the problem fat is located. A careful back and forth movement is performed to break up the stubborn fat cells. They are then removed by the specialized suction power of the cannula.
Once the fat cells are removed, the remaining loose skin is then lifted and removed through the specialized thigh lift procedure. The excess skin is gently eliminated and the remaining tissue is tightened and shaped for smooth results.
Results provided by this revolutionary combination treatment can be immediately visible for smooth and younger looking thighs. Liposuction and thigh lift treatments offer reliable results for diminishing stubborn bulge and sagging thigh skin. You can now claim the legs you desire with this innovative solution.
Who is a Candidate?
For both men and women who are looking for a reliable solution for achieving proportionate and smooth-looking legs could benefit from this combination treatment. If you are wanting to improve concerns that your larger thighs have caused, such as chafing, you could qualify as a candidate.
Smooth away unwanted fat with thigh liposuction and lift today. Reach out to the professional Plastic Surgeons here at Roy David MD Plastic Surgery in San Diego & La Jolla, California to determine if you are a proper candidate for this revolutionary remedy. Contact us today and schedule your consultation!
Want to see more before and after photos? Visit Our Gallery