As its name suggests, FaceTite® is an advanced treatment to tighten skin on the face and neck.
Often referred to as a non-surgical facelift, this minimally invasive procedure uses radiofrequency (RF) technology to safely smooth and recontour facial tissues.
Dr. Roy David is a plastic surgeon specializing in facial procedures who is happy to offer FaceTite® as a potential alternative to a facelift for qualifying patients in San Diego, California, and beyond. While no non-invasive treatment can compare with the surgical results of a skilled facial plastic surgeon, FaceTite® is a minimally invasive procedure that "bridges the gap" between non-invasive and surgical treatments, giving outstanding results for the right patients.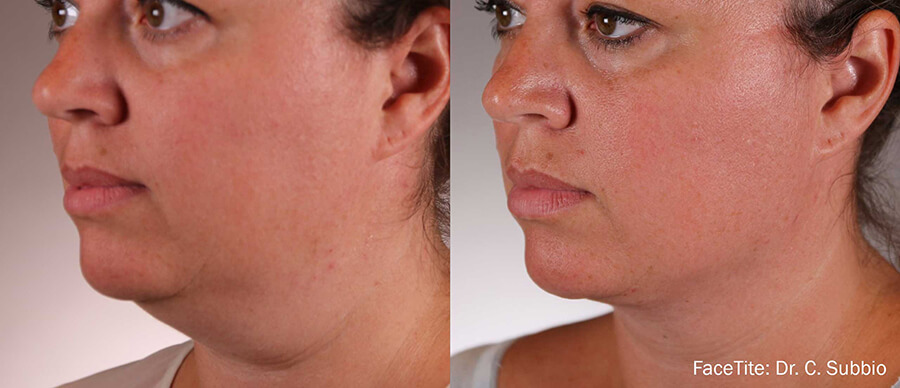 What Are the Benefits of FaceTite®?
Achieve results comparable to surgery with a minimally invasive procedure
Qualifying candidates can avoid the need for general anesthesia, incisions, and a long recovery while improving skin laxity.
Versatile enough to treat virtually all areas of the face
Even a traditional facelift doesn't treat the areas around the eyes; FaceTite® can.
Little to no downtime due to FaceTite®'s minimally invasive nature
FaceTite® produces mild side effects, and after the procedure, patients are advised to rest for the remainder of the day. They can typically return to their routine activities the following day but will be advised to avoid any strenuous activity for a few days. Minor swelling or redness should subside within one to three days.
Dramatic results in as little as one treatment
It can take up to two months to see results as the treatment triggers abundant, rapid collagen production. Many patients only require one treatment, but more severely sagging skin may require up to three.
Long-lasting results
Patients can expect results that last up to five years, often with only one treatment.
Am I a Candidate for FaceTite®?
If you are a healthy, adult, non-smoker who wants to improve your facial contours without invasive surgery, you are likely to be a good candidate for FaceTite®.
FaceTite® is best for individuals who want to address concerns they have about their face and neck, including:
Loose skin
Excess fat
Wrinkles
Fine lines
Not every patient will qualify for FaceTite®. During your consultation, your facial skin and tissues will be examined and your provider will determine if you could benefit from this procedure. Patients with a greater deal of laxity may still be better suited for a facelift.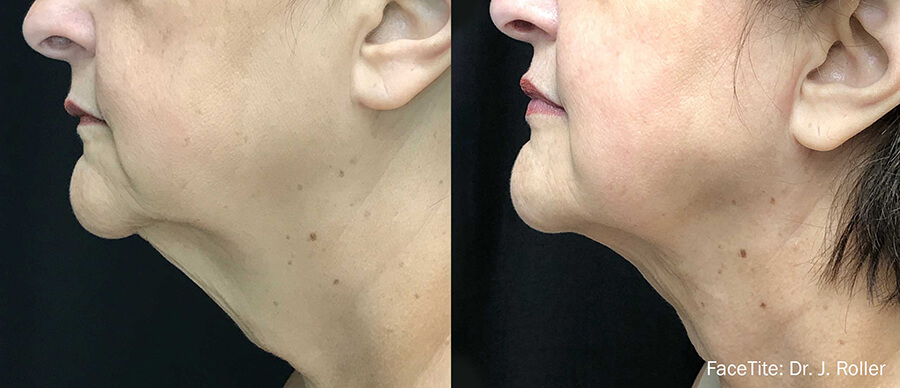 What Is Discussed During My FaceTite® Consultation?
During your consultation, your provider will listen to your concerns and answer any questions you have about the treatment.
If you choose to proceed with your FaceTite® treatment, we'll obtain a complete medical history and ask you about any medications or supplements you take.
How Does FaceTite® Differ From Ultherapy®?
When Ultherapy® first arrived on the scene, it received rave reviews as it accomplished more than other skin treatments could. However, with the emergence of FaceTite®, Ultherapy® has met its match. We have found FaceTite® to produce more dramatic results, more reliably sculpting the jowls and neck.
While Ultherapy® produces visible results that last about 12 months, FaceTite® delivers substantial results that last up to five years.
What Areas Can FaceTite® Treat?
One of the advantages of FaceTite® is that it can treat the following areas:
Around the eyes and brows
Around the nose and mouth
Jowls
Under the chin
Neck
The versatility and effectiveness of FaceTite® mean comprehensive treatment for your face.
How Is the FaceTite® Procedure Performed?
A local anesthetic is administered to ensure a comfortable experience. Access to the treatment area is made with a needle, and a slim probe is inserted below the skin into the subcutaneous tissue.
Radiofrequency-assisted lipolysis (RFAL) is then distributed between the probe and an external electrode to safely heat the fat, tissue, and skin.
This process triggers new, rapid collagen production and minimizes fat cells for a visibly firmer and more youthful appearance.
How Long Is Recovery After a FaceTite® Treatment?
Swelling is to be expected after the procedure, and you may see some bruising. These side effects should subside within a few days to a week after treatment.
You should not experience significant discomfort and can typically return to your normal activities almost immediately, although you may want to take a few days off from work.
Because there are no significant incisions or sutures required, scarring is extremely rare. While you can expect a short recovery period, you should avoid strenuous activities for two weeks following treatment.
How Much Does a FaceTite® Treatment Cost?
FaceTite® treatment costs vary depending on several factors, including the number of areas being treated and the extent of correction needed.
Your consultation will provide the opportunity to discuss your treatment goals and have all your questions answered.
When Will I See My FaceTite® Results?
Rather than lifting and excising skin like a conventional facelift, this procedure promotes the expedited growth of collagen while remodeling fatty areas.
This means your treatment will keep working for up to nine months as collagen continues to be produced and the skin naturally tightens. However, you can expect to see early results in about six weeks.
San Diego FaceTite® Treatment With Cosmetic Facial Specialist, Dr. Roy David
Dr. Roy David, a facial plastic surgeon in San Diego, California, and his team offer FaceTite® in San Diego and La Jolla as a potential alternative to surgical facelifts.
Call us today at (858) 658-0595 to learn more about FaceTite®!
Frequently Asked Questions About FaceTite®
Q. How long does the FaceTite® procedure last?
A. Depending on the extent of your treatment, the FaceTite® procedure typically takes from one to two hours to complete.
Q. Is FaceTite® painful?
A. Local anesthesia is used to numb the treatment areas to ensure comfort during the FaceTite® procedure. You may experience some tenderness for a few days, which can be managed with over-the-counter pain medication.
Q. How many FaceTite® treatments will I need?
A. Many individuals need only one FaceTite® treatment to achieve their desired results. However, in some cases, it may take up to three.