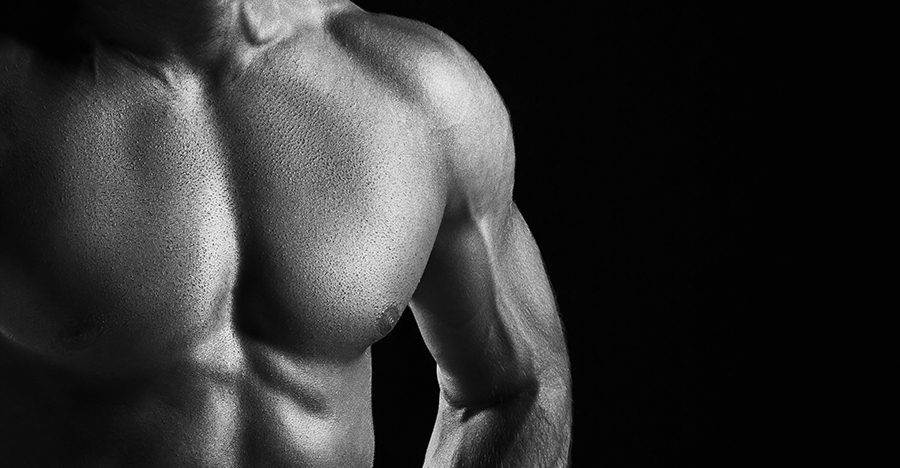 Our San Diego Plastic Surgeons understand the psychological benefit of having the appearance of pecs and abs for a male in today's society. We also understand that not only diet and exercise, but also genetics play a major role in how easily this feat is accomplished. For the patients who carry extra fatty tissue over their pectoralis or their abdominal muscles, we work tirelessly with our top of the line liposuction equipment and artistic eye to sculpt and identify these attractive muscle groups, and where necessary, perform fat grafting to build their size and enhance their shape and contour. We are able to completely remove all fatty tissue associated with Gynecomastia many times through only a well-hidden incision below the nipple/areola. Results of this surgery can be life changing and play a major role in boosting a man's confidence.
*Before and after photos and testimonials on this website are from actual patients who have given permission to have their photos/testimonials published. These photos and testimonials are for illustrative purposes only and no prediction of outcome is implied. Individual results may vary.
Common characteristics of gynecomastia include:
Localized fat deposits in the chest area
Overabundance of glandular tissue
Excess breast skin
How Is Gynecomastia Treated?
When gynecomastia is primarily the result of excess fat tissue in the chest area, liposuction is typically performed to permanently remove these fat cells. After making tiny incisions in the creases beneath the breasts, a cannula (thin hollow tube) is inserted under the skin to suction away unwanted fat deposits. When gynecomastia is more extensive, breast skin and glandular tissue may also be removed.
Common Reasons to Have Male Breast Reduction
Restore Confidence
Enlarged breasts can cause significant embarrassment that detracts from a man's self-esteem. Gynecomastia surgery provides a more masculine appearance to improve a man's confidence and self-image.
Wear Fitted Clothing
Excess fat tissue in the breasts often prevents men from wearing tighter clothing and discourages them from taking off their shirts in public. Male breast reduction surgery improves the contours of the chest so that men can be comfortable no matter what they're wearing.
Improve Hygiene
Gynecomastia often causes folds and creases in the skin that can lead to rashes, irritation, and other hygiene issues. Gynecomastia surgery eliminates excess breast tissue, which improves hygiene in this area.
Reduce Discomfort
Enlarged male breasts can be uncomfortable and even painful, which can impede performance during physical activities and athletics. Removing excess breast tissue will improve comfort, increase mobility, and elevate a man's quality of life.
Male Breast Reduction FAQ
Q. What causes gynecomastia?
A. Gynecomastia can occur from an imbalance of hormones, but it can also be a side effect of certain medications or medical conditions. Being overweight is also a common cause of excess fat in the chest area. Gynecomastia often resolves on its own or through diet and exercise. During your initial consultation, your surgeon will determine the cause of your gynecomastia to rule out any medical condition.
Q. Am I a good candidate for male breast reduction?
A. Good candidates for male breast reduction La Jolla are medically healthy, do not smoke, and are within 30 to 40 pounds of their ideal body weight. In addition, it is usually recommended that gynecomastia be delayed until after puberty when the patient is in his late teens or early twenties. To determine if you are a good candidate for gynecomastia surgery, it is best to schedule a personalized consultation with a board-certified plastic surgeon.
Q. What is the recovery time for male breast reduction?
A. *Most men feel good enough to return to work one week after gynecomastia surgery. However, exercise and physical activity should be avoided for at least one month to allow for proper healing.
Q. How long do the results of male breast reduction last?
A. *The results of gynecomastia surgery are intended to be permanent, but weight fluctuations and the natural aging process can alter the appearance of the chest over time. Results of male breast reduction surgery can be maintained by following a healthy lifestyle.
Q. Is male breast reduction covered by health insurance?
A. Some health insurance companies will cover the cost of gynecomastia surgery. However, it is important to check with your health insurance provider to know what your individual plan covers before undergoing the procedure.
Want to see more before and after photos? Visit Our Gallery
Have additional questions about gynecomastia surgery? Contact our San Diego or La Jolla, California clinic today to Schedule a Consultation.