Voted #1 Skin Tightening Device at the 2012 Las Vegas Aesthetics Show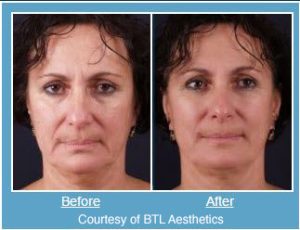 *Exilis is considered one of the best devices on the market for noninvasive Skin Tightening AND noninvasive Fat Reduction. Our San Diego clientele love the results they see from Exilis, and most return to have multiple areas treated.
*Before and after photos and testimonials on this website are from actual patients who have given permission to have their photos/testimonials published. These photos and testimonials are for illustrative purposes only and no prediction of outcome is implied. Individual results may vary.
Click here to view Kathie Lee from the Today Show as she has the Exilis procedure!
*This revolutionary device has been in our practice in La Jolla since early 2011 and continues to generate excitement and a high level of satisfaction for our clients. Our highly experienced staff are experts at choosing the best parameters for each client, and regularly achieve dramatic results in fat reduction and skin tightening.
*Exilis represents the latest breakthrough in noninvasive radio-frequency skin tightening and fat reduction. Exilis uses safe and sophisticated thermal (RF) energy to heat the tissues, causing collagen contraction and skin tightening. Unlike other radio-frequency modalities, Exilis heats the skin in a controlled and gradual manner to a safe 40 degrees. Patients will feel a comfortable deep heating sensation with each short treatment session, akin to a heated massage. The image below shows how thermal energy creates new, tighter collagen bundles:

Exilis can be used to tighten loose "turkey" necks, firm the jawline, tighten loose eyelid skin, and lift the brows. Exilis tightens crinkly skin in the abdomen, thighs, arms, and knees.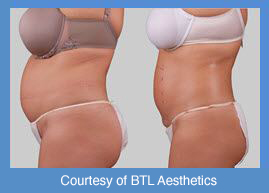 A special deep-penetrating chilled treatment head is used to perform fat reduction on most areas of the body, including abdomen, love handles, back, thighs, knees, arms, and neck. In addition to the gym, schedule some time for Exilis as you get your body toned for the San Diego summer. Radiofrequency waves cause fat cells to release their triglyceride contents, which are then processed by the body's natural pathways. Alone or combined with an exercise routine, Exilis provides the needed one-two punch to address your trouble areas.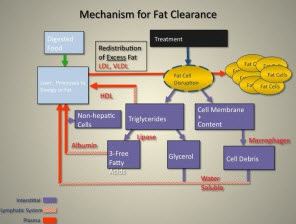 All Exilis treatment sessions take between five to twenty minutes and you can go right back to work or play. Patients should hydrate with plenty of fluids before and after fat reduction treatments to facilitate excretion of fatty content.
*"I've always felt that my love handle area was super difficult to get rid of even with an amazing eating regimen and 5 days a week workout regimen. So after meticulous research on all the different types of treatments for spot reduction I found that Exilis was something I would want to do. I called a few places and found Roy David MD, Cosmetic Surgery & Medical Spa gave the most reasonable treatment plan. Courtney is awesome, she explained everything thoroughly and made each treatment a breeze. I look forward to going to my appointments. As for my results, Exilis has exceeded my expectations and I love how tiny and shapely my waist looks. I couldn't have been happier with my decision to come here. I've shown all my friends my results and they are now being treated by Courtney as well!"
-Lisa , San Diego
*Most patients see results after their first treatment, however a series of four to six sessions is recommended for best results.
Our office was among the first in San Diego to introduce Exilis, and our staff have the experience and training to get you the best results! Call us for package pricing and to learn about our Exilis membership program. Our patients and staff love Exilis, and we are confident you will too!
"Everyone in the office is so friendly. Courtney did almost all of my treatments. She went out of her way to make sure I was comfortable and was able to answer all of my questions. I'm thrilled with my results! So far, I've had Exilis on my stomach, love handles, and inner thighs. The before and after pictures proved what I already knew. Five star staff, five star procedure."
-Kelly, San Diego
*Typically, four treatment sessions are performed one week apart. Exilis is FDA cleared for use in non-invasive dermatological and aesthetic procedures.
Exilis Q and A:
Q: Is Exilis painful?
A: *You will feel a gentle deep heating sensation, similar to a hot stone massage. Most clients describe the feeling as relaxing and say they look forward to their treatments. Our highly experienced staff at Roy David MD, Cosmetic Surgery & Medical Spa have performed thousands of procedures and strive to ensure a comfortable experience.
Q: How many sessions will I need?
A: *First -time San Diego clients are encouraged to have 4-6 sessions, spaced approximately one week apart. You should notice cumulative improvement with each session. Number of sessions will depend also on the size of the area and the degree of improvement desired.
Q: How long do the results last?
A:* Exilis induces collagen remodeling, which is thought to be a permanent change. However, you will continue to age at your normal rate and you may benefit from "touch up" treatments in the future.
Q: Why should I consider Exilis over a laser peel for skin tightening in San Diego?
A: Exilis is completely noninvasive, and there is no downtime or recovery.
Q: Why would I consider Exilis over a facelift for skin tightening?
A: If you have only mild sagging of the face and neck, are relatively young, or have had a previous facelift, then Exilis can be a great choice for improving or maintaining your appearance. Our expert staff and our medical director, San Diego facial plastic surgeon Dr. Roy David, will determine if you are a good candidate.
Q: Why would I consider Exilis over Liposuction for fat reduction?
A: *For mild to moderate trouble areas, Exilis can achieve smooth and safe results with zero downtime!
Exilis Pricing: (Call us for current specials! Consultation required for package pricing)