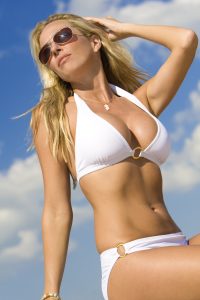 The official start of summer is in 31 days. For those with unwanted fat, loose skin and a sun-damaged face, that's not a lot of time to get beautified in time for bikini season. Luckily, there's some non-invasive short cuts you can take to get heads turning on the beach in a matter of weeks.
Dr. Roy David, double board certified plastic surgeon and founder of Roy David MD Plastic Surgery And Medical Spa, is sharing his top three picks for Non Invasive Ways To Get Summer Beach Body Ready.
Vanquish: Body Sculpting and shaping with Vanquish is looking like a game changer for non-invasive fat melting. This device harnesses radio frequency, but treats clients without contact and is completely pain free. Not only that, but it treats the entire "core" (upper and lower abdomen, flanks or love handles) in one 30 minute session. Other devices on the market freeze fat cells (Zeltiq), but are limited by discomfort and treatment area. Patients lose 2-4 inches in only 6 weeks.
2. Ultherapy: Skin tightening and lifting with Ultherapy remains the only non-invasive FDA approved device for lifting skin in the face and neck. This device uses ultrasound technology to penetrate to the layer of the SMAS (Superficial muscular aponeurotic system) above our muscle (the same layer that is raised in a facelift operation!), tightening this layer to lift the cheeks, forehead, jaw line, and neck.
3. Micropen: Skin Resurfacing and smoothening: Bye bye deep chemical peels or deep laser treatments. The micropentakes microneedling to a new level. This device uses 12 fine needles to puncture the skin surface with virtually no discomfort. Think of it as a microdermabrasion on steroids! Whereas traditional microdermabrasion is unable to improve fine lines and scars, the micropen achieves results that are close to a laser peel, but without the downtime. Clients are usually completely healed in one day. This pen actually opens temporary tracts through the skin so that hyaluronic acid and growth factors applied topically can penetrate to the dermis and stimulate collagen and skin renewal.
To find out more or book your appointment, contact Roy David MD Plastic Surgery And Medical Spa.