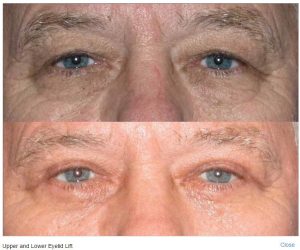 Dr. Roy David a San Diego facial plastic surgeon discusses the benefits of facial cosmetic surgery for baby boomers looking to compete in today's workforce.   Facelift and eyelid surgery remain some of the most commonly performed cosmetic surgery procedures in the United States.  According to the American Society of Plastic Surgery over 500,000 facial surgeries were performed in 2014.
According to Dr. Roy David eyelid surgery is one of the most rewarding facial procedures baby boomers can have done.  Dr. David says, "many baby boomers that come to me are upset about the bags under their eyes or sagging eyelids that make them look much older than they really are, or in many cases it makes them look angry or very tired".  A good facial plastic surgeon can correct this with just minor eyelid surgery.  Dr. David says, "many baby boomer will look ten years younger after a good blepharoplasty procedure".
Many baby boomers  are now having facial plastic surgery to stay competitive in the workforce and the dating world according to Dr. David, and many of these baby boomers are men.  Dr. David says, "A decade ago only about 10% of the cosmetic surgery we performed were on men, now it represents about 20% of our practice".  Most men have their eyes done and maybe a neck lift according to Dr. David.  Dr. David recently introduced hair transplant procedures utilizing the Neograft hair transplant system, so now men and women can also refresh their hair lines in addition to facial surgery.  Dr. David believes as cosmetic surgery becomes more widely accepted that more of his patients will be men.
Eyelid surgery can include the upper eyelids and lower eyelids depending on the person's needs. The upper eyelid usually involves the removal of excess skin, smoothing out of wrinkles and fix a droopy eyelid.  The lower eyelid in many cases involves correcting puffiness underneath the eyes and dark circles below the eyes.  Dr. David always strives for a natural result, " the last thing anybody wants is to have that look like their eyes are being pulled back to their ears".  It is very important when considering eyelid surgery to find a facial plastic surgeon that has performed many eyelid surgery procedures.
Dr. David says that most of his eyelid surgery cases are performed on an out- patient basis and the recovery usually takes 7-14 days.  He recommends taking a little time off work to recover and let the swelling go down.  Typically by day 7 most of my patients can start back to their normal activities and by day 14 most people will never even know you had a procedure done.
Dr. Roy David is a member of the American Academy of Facial Plastic and Reconstructive Surgery, and specializes in plastic surgery exclusively of the Face, Nose, Eyes, Neck, and Scalp. He has been in practice in San Diego for over ten years, helping thousands of patients to achieve their goals.
Dr. David is double-board certified by the American Board of Facial Plastic and Reconstructive Surgery, and the American Board of Otolaryngology-Head and Neck Surgery. He is a fellow of the American College of Surgeons, the American Academy of Facial Plastic Surgery, and the American Academy of Otolaryngology-Head and Neck Surgery. Dr. David is one of a select group of plastic surgeons to complete a prestigious Fellowship in Facial Plastic Surgery under the auspices of the AAFPRS.