Dr. David was recently featured on ABC News in a Valentine's Day special segment on Couples Plastic Surgery.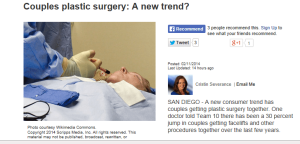 More and more couples are having cosmetic surgery hand in hand, especially facelift surgery, according to Dr. David. "In the past, the wife would usually come in and schedule surgery, the husband would remain in the background. Now men want to look better too, and the couples will book their procedures back to back so they can help each other recover," explains Dr. David.
Click here to to view entire article 
Dr. David feels the trend is because men are less inhibited about having surgery and couples in general want to look as good as they feel. David and Jackie, the couple in the story, feel their new looks complement their active lifestyles.
Both David and Jackie had the La Jolla Lift procedure with Dr. David, which rejuvenates the neck, jowls, and cheeks with twilight sedation. Jackie also chose to add on her eyelids and some fat transfer to the face. You can see their before and after photos in our facelift and La Jolla Lift galleries.