Dr. David's La Jolla Lift Featured on The Doctors TV Show!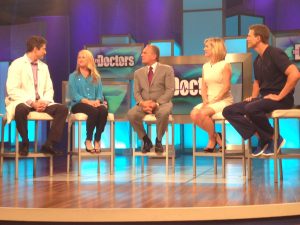 Looking for a lift this spring? Recently, Dr. David headed to the LA set of The Doctors to chat about his innovative mini-facelift procedure, The La Jolla Lift. The La Jolla Lift is ideal for men and women who are experiencing sagging in the lower half of their face, most commonly in the jawline, neck and cheek or jowl area. What's most unique about The La Jolla Lift, besides the incredible results, is there is no need for general anesthesia. Instead, twilight sedation is used. This ensures a speedier procedure and recovery time. Most patients are back to their everyday lives in a week!
The Doctors crew followed the journey of one of Dr. David's patients, Joan DePew. Joan, a 53-year-old real estate broker, was extremely unhappy with the lower half of her face. Specifically, her "turkey neck." It's important for Joan to look good in her line of work, plus she wanted her appearance to match how good she feels on the inside. Joan's experience was filmed from beginning to end, including the actual surgery done by Dr. David.
Here is a glimpse of Joan's before pictures, but make sure to tune in to The Doctors on CBS Friday, May 16th, to check out Joan's big reveal!