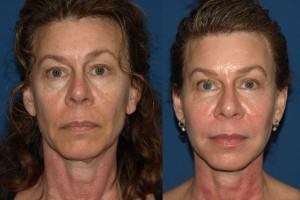 When a new surgical or medical treatment  develops, there is often a rush of excitement and wave of enthusiasm among doctors, especially if it is marketed or hyped up in the press. Fat transfer to the face is a procedure that has been championed for close to 20 years, but really took off in the early 2000s.
In the early 2000s, there was still only a poor appreciation of the importance of volume in rejuvenation of the aging face. Facelifts and laser peels were the norm, and injectable fillers like Restylane were just hitting the market. It was during this time that a realization struck plastic surgeons that by using small droplets of fat, they could achieve reliability and precision in fat grafting.
As fat transfer gained in popularity, there was a veritable explosion of injectable (synthetic) fillers in the cosmetic market: Juvederm, Radiesse, Artefill, Sculptra, Perlane, Belotero, Voluma-to name a few.  Some began to question the need for a more invasive procedure involving liposuction to harvest the fat, then process and inject it.
Here in my San Diego facial plastic surgery practice, we began using fat during facelift surgery to enhance flat or sunken areas around the eyes, cheeks, temples, jawline, smile lines, and lips. My experience has been that fat transfer virtually always enhances surgical facelift results in the right patients, and today over 75% of my facelift patients opt to add fat transfer to their San Diego facelift surgery.
Initially after injection, the treated fat transfer areas may appear puffy or overly large. Within one week or less, this puffiness subsides, and most patients are extremely pleased with their appearance-even hoping it does not "shrink down" further. Between 2 weeks- 6 months, residual swelling fades, the transplanted fat develops a blood supply, and permanent results become evident. Occasionally, patients cannot pinpoint the contribution of fat transfer to their results if they have had concurrent procedures such as facelift or laser peel. They simply look and feel great! And so at three months, I may show them their before and after pictures and they are delighted to see the sunken hollows of their lower eyes have smoothened out, or that their cheeks have greater lift and definition.
The benefits of fat transfer over injectable fillers are that the results do not go away once they have stabilized, and the appearance is a natural one, without excessive "puffiness" or light reflection that can occur with some fillers. We also believe that by improving the blood supply to the skin and possibly bringing stem cells, fat grafting to the face also improves skin texture and tone.
Dr. David is having a pre-holiday special on fat transfer, $500 off this month only.