One of the most common questions we receive from prospective facelift patients in San Diego is "how long will it last?" This is a very reasonable question, because patients are making a significant financial and emotional investment. The recovery process can vary from one to two weeks, during which they must refrain from certain physical activities and travel, not to mention the cost can compare to that of a new automobile.
The answer to this question is twofold. First of all, you will always look better than if you never had the facelift. That is, 10 to 20 years in the future, you will look better than an imaginary twin who never had a facelift-even if you do nothing else. That said, you may still want to have some maintenance or a minor touch "lift" at that point just to continue looking your "very best." In other words, facelift surgery turns back to the clock to when you were at a younger age, but from there you will continue aging as usual, at the usual pace, assuming you do nothing else.
The good news is there are many noninvasive or minimally invasive things that can be done to maintain and prolong the results of a good facelift, without the need for further surgery. This can vary from routine facials (hydrafacial MD or chemical peels) to radiofrequency and ultrasound lifting and tightening treatments. Routine botox and tastefully placed fillers can also help lessen wrinkles and sagging, and prevent further sagging.
Below is a patient who recently came to us for a one year follow up from her La Jolla Lift Facelift procedure. As you can see, her results have held up nicely and even though she is a year older now, she looks many years younger than in her Before picture.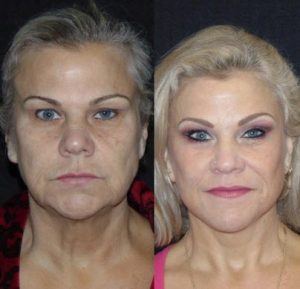 The key to long-lasting results in facelift surgery is the same as the key to a beautiful result. You should choose a skilled, experienced, Facial Plastic Surgeon who specializes in facelifts.
For a consultation with Dr. Roy David, please call our office at 858 658-0595 or email info@roydavidmd.com