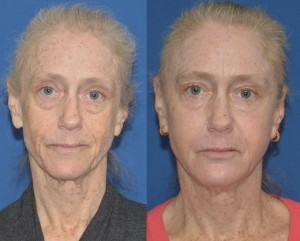 Medical knowledge about the facial area has advanced considerably over the past 10 to 20 years, and that has allowed facial plastic surgeons to administer rejuvenating procedures which do not necessarily involve surgery. Patients desiring a fuller and more youthful look to certain facial areas like the cheeks or lips, or patients wishing to have wrinkles and smile lines reduced, can now take advantage of these medical procedures which have been coined the "liquid facelift" because of the amazing results.
The rejuvenating power of facial fillers
Known as facial fillers, the substances used are injected at the site where enhancement is needed, and depending on the kind of treatment used, can have effects which last a years,  or they can even be permanent. Some of the most commonly used treatments are Voluma, Artefill, Radiesse, Sculptra, Juvederm, and Restylane, all of which are compatible with natural body functions.
As people age, subcutaneous fat is lost under the skin layers of the face, causing it to appear more shallow, and making the facial muscles more evident. This is why crow's feet and wrinkles become more pronounced, and since they are closer to the skin surface, they appear to become deeper as more sub-surface fat dissolves. Facial fillers serve to replace this lost fat, and restore the volume which prevailed during earlier years.
Some plastic surgeons have made it part of their practice to become expert in the knowledge and application of the various facial fillers available, and now specialize in treating patients who desire enhanced facial volume without having to resort to surgery. The facial filler procedure generally only involves injections at the various sites on the face requiring restoration, and sometimes a local numbing agent to avoid any discomfort for the patient. Since this is a far less invasive process than plastic surgery, it often requires little or no downtime for the patient, and is administered on an outpatient basis.