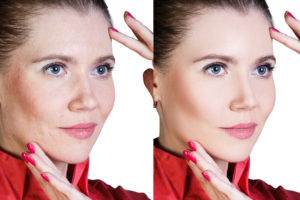 Tired of wrinkles staring back at you in the mirror? Do you hate the idea of surgery? Technology to the rescue! The Liquid Facelift is helping the faces of people just like you look younger, plumper and more defined.
No Surgery? No Kidding!
Dermal fillers do the work. When injected by a skilled cosmetic surgeon at various spots around the face, the effects are rejuvenating. Though each procedure has its pros and cons, the fillers actually replace the need for a surgical facelift, to a large degree.
An experienced cosmetic surgeon can make a number of tiny injections just on the cheeks or under the eyes. But the more common approach is an all-over use, involving the eyes, jaw, eyebrows, lips and cheeks.
A More Youthful, Contoured Face
The surgeon uses both relaxants and fillers to contour the face, plump up lost volume and reduce the appearance of lines and wrinkles. Muscle relaxants like Botox work well on crows feet, frown lines and lines around the chin. Fillers like Juvederm help with lost volume, fine wrinkles and hollow areas, often found in the cheeks.
A skilled physician can lift cheeks and jawlines, eyelids and eyebrows. Laugh lines and wrinkles are smoothed out. The contours of lips and jawlines are more defined.
The effect of fillers doesn't stop there. This procedure actually improves the quality of the skin by hydrating and nourishing it.
Are You a Good Candidate?
It isn't necessary to be in your 50s or 60s to have a liquid facelift. Patients in their mid-20s and 30s can benefit. The contouring can improve features, like the shape of your lips or the look of your cheeks.
If you're in your 40s, 50s, 60s or more, a liquid facelift can add lost volume to cheeks and lips, get rid of wrinkles around the mouth and on the forehead and smooth out uneven skin.
After the procedure, you might experience slight swelling for a couple of days. This disappears within a week. The injections themselves do not cause scarring. That's because they are micro-injections, not visible to the eye.
Experience Is Key
Just because the procedure doesn't involve surgery, don't think you can safely trust the work to just anyone. You get the best results when you trust the work to a fully trained cosmetic surgeon, with years of experience.
That's why so many patients insist on working with Roy David, M.D., in La Jolla. Specializing in cosmetic and reconstructive surgery on the face and neck, Dr. David gives you the look you want. His focus is on natural results that are long lasting.
Board certified by the American Board of Facial Plastic and Reconstructive Surgery, he specializes in facelifts and work on the nose. He has over one thousand facelifts to his credit, and hundreds of nose jobs and eyelid procedures.
He has been using injectables, from Botox to Bellafil, for many years. He understands what they can do and the best way to work with them. Roy David MD Plastic Surgery And Medical Spa takes pride in staying on top of the most advanced techniques, using cutting edge technology to produce youthful, natural faces.
Dr. David focuses on one-on-one communication. He makes sure you have plenty of time to ask all your questions. He fully explains the procedure and clarifies what types of outcome you can realistically expect.
Interested in a liquid facelift? Call the Roy David MD Plastic Surgery And Medical Spa and Medical Spa today to find out how a liquid facelift can give you the look you want.