Rhinoplasty is a complex form of plastic surgery that creates permanent changes in the framework of the nose to improve aesthetics and function.

Rhinoplasty is universally considered to be one of the most complicated cosmetic surgeries.

Therefore, it is not something that you want to leave up to chance by choosing an unskilled or unprepared surgeon.
Unfortunately, when most rhinoplasty candidates start researching their procedure and potential surgeon, they cannot always see past the dollar sign.
At Roy David MD Plastic Surgery And Medical Spa, we hope that candidates find a way to consider the factors that go into the price you are paying.
The cost of rhinoplasty varies significantly depending on the specifications of your procedure. In San Diego, the current range for rhinoplasty is between $6,500 and $12,000.
Rhinoplasty Cost Factors
There is an expansive difference between the two ends of the price spectrum in terms of the results you will have.
The overall cost is a representation of the surgeon's training, expertise, and surgical history.

Several factors contribute to the price of your rhinoplasty.
Anesthesia
Rhinoplasty is performed under general anesthesia. This type of anesthetic means that you will be completely asleep for the procedure and will not remember any aspect of it. This is the deepest level of sedation. Therefore, your anesthesia must be administered by the highest level of trained professionals.
At Roy David MD Plastic Surgery And Medical Spa, we only use board-certified anesthesiologists.
Board-certified anesthesiologists have proven their knowledge and experience in the field of anesthesiology through their education, residencies, active practices, and case reports.

These anesthesiologists have shown expertise in both their knowledge and dedication to a strict code of ethics.

Your anesthesiologist will be present throughout the entire surgery to monitor your vitals and ensure your complete safety.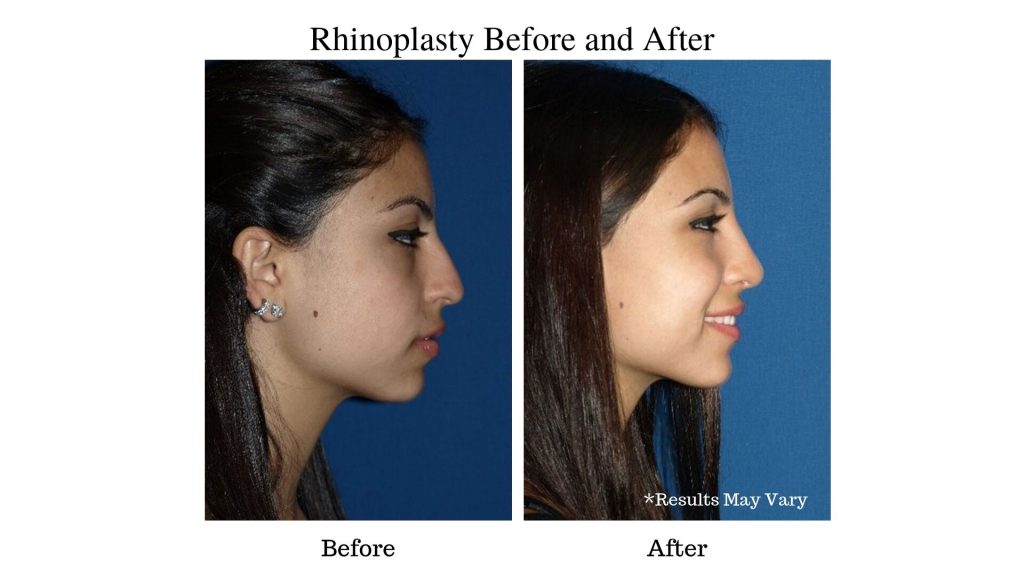 Facility
Rhinoplasty can be performed in a hospital setting or an outpatient surgical suite. Our surgery center is accredited by the Accreditation Association for Ambulatory Health Care (AAAHC) and offers the safest care combined with a comfortable atmosphere.
Surgical Techniques
Rhinoplasty manipulates the bone and cartilage in the nose to change nasal aesthetics, ease breathing, or perform a combination of both. There are several techniques and several types of nose surgery.

These differing techniques affect the cost of your rhinoplasty.

There will be a difference between a rhinoplasty that is used for reduction purposes and one that is performed for augmentation.

When a nose is reduced in size (or treated for nasal humps or wide nostrils), the bone and cartilage is shaved down or removed. There may be an additional cost for that technique.

When a nose is augmented, a graft is required. This graft can be created from your cartilage—usually by borrowing cartilage from the nasal septum, the ear, or the ribs, or it is constructed with another material like an implant.

This extra material comes with an additional cost.
Revision Surgery
Revision rhinoplasty is performed sometime after the initial procedure to reinforce or recreate nasal aesthetics. Rhinoplasty is a complicated surgical procedure, and even under the hands of the most skilled surgeon, there is no way to guarantee perfect results on the first attempt or predict the way that a patient will heal.
Post Surgical Appointments and Tests
The recovery period for your rhinoplasty takes up to one year. That does not mean that you will be in a nasal cast for a year—most of the bruising and swelling subsides within a few weeks—it only means that one year is the estimated timeframe for the nose to regain its strength and stability.

Part of your rhinoplasty cost includes the follow-up care and appointments within that one year recovery period. These appointments will ensure that you are healing as you should.
Surgeon's Fees
Surgeon's fees are responsible for a significant amount of the price difference. Surgeon's fees take into consideration the surgeon's education, training, certification, experience, and achievements.

Dr. David is double-certified by the American Board of Facial Plastic and Reconstructive Surgery and the American Board of Otolaryngology-Head and Neck Surgery. He has over a decade's worth of experience in complex plastic and reconstructive procedures of the face, including rhinoplasty and revision rhinoplasty.
Financing Options
For patients who are concerned about the overall price of their rhinoplasty, financing is available through CareCredit®.
To Find Out More
To find a rhinoplasty surgeon near you, contact Roy David MD Plastic Surgery And Medical Spa by calling (858) 997-0085 or by filling out our online contact form.