Rhinoplasty can be performed through one of two approaches: Open, or Closed. An open rhinoplasty involves an incision across the columella (marked out in the picture). This incision allows the surgeon to more easily see the inside of the nose for performing more complex procedures.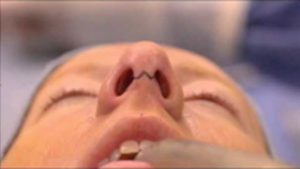 An open rhinoplasty is often used if complex tip or middle vault work is required. For example, a very boxy or misshapen tip may need cartilage grafting or other special maneuvers. Similarly, cartilage grafting to the middle portion of the nose may be required to strengthen that region and prevent excessive narrowing or breathing complications. These types of grafts are known as spreader grafts.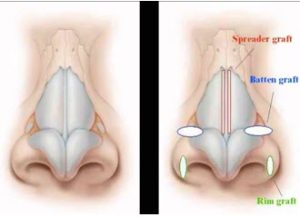 The incision from an open rhinoplasty heals exceptionally well in almost all cases, leaving only a thin white scar that is difficult for the naked eye to discern. For this reason, a skilled surgeon will choose whichever approach is likely to give the best aesthetic result, with no concern for the open incision scar. In our San Diego practice, approximately half of rhinoplasties are performed using the approach.