According to the American Society of Plastic Surgeons (ASPS), nose reshaping, or rhinoplasty, was the second most common cosmetic surgical procedure, after breast augmentations which have ranked number one since 2006. Although rhinoplasty is not as popular as it once was, it's down two percent from 2013, it still is an important option for men and women alike. When choosing your plastic surgeon, you have to understand why it's important to have someone with experience with individuals of your culture.
Is Bone Structure Different Between Cultures?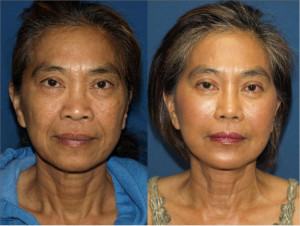 According to the ASPS, in 2014, the number of Asian Americans who receive cosmetic surgery has increased by nine percent. "When it comes to rhinoplasty, it's important to understand the key differences in bone structures between ethnicities", says Dr. Roy David a San Diego Facial Plastic Surgeon. According to Dr. David oriental nose shapes have different characteristics than that of Caucasian noses. The nasal bridge, the upper, bony part of the nose, is lower in individuals with Asian ancestry. The dorsum, which is the projected portion of the nose, may be less projected and even convex. The tip of the nose is also different, and this may be attributed to different conditions, including skin thickness. These physical differences make it important to find a plastic surgeon with experience in Asian bone structure.
"Skin color is another issue when having rhinoplasty surgery. The skin tissue in a scar is white, because the melanin cells no longer produce color. You want your plastic surgeon to have techniques to reduce scarring and to maintain your skin color. A nose-job is not a one-size-fits-all procedure, but a custom, tailored job to suit your own needs and desires," says Dr. David. You really should see our rhinoplasty before and after pictures to see what can be accomplished.
What Are Your Goals?

When it comes to Asian rhinoplasty, each individual has a different goal, Dr. David recommends bringing images of nose shapes you would like your surgeon to achieve. Although at one time, it was common for people to choose cosmetic surgery to look more like another ethnicity, in today's culture, this is not always the case. Many people just want to change their look while preserving their own ethnicity. A plastic surgeon who understands the structure of the face will be able to make that happen more effectively. Sometimes, the goal is to soften ethnic features, to make them less dominant.
Different cultures have different attitudes toward plastic surgery. It can be seen as frivolous or being ashamed of your own ethnicity, but the times are changing. Your plastic surgeon should understand cultural differences in facial shapes, to help you meet your own goals. Just because you want a certain type of nose, doesn't mean that it will necessarily fit your features. You need a plastic surgeon experienced with Asian features and standards.